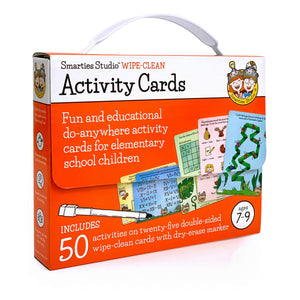 Smarties Studio Wipe-Clean Activity Cards for Ages 7-9
Sale price Price $14.99 Regular price $19.99 Unit price / per
Fun and educational do-anywhere activity cards for elementary school children.
These reusable cards' age-appropriate activities can help improve your child's focus, comprehension, and problem-solving skills. Build confidence while progressing toward milestones in critical thinking, following multi-step directions, mathematics, and more.

Developmental milestones addressed in this set:

Building confidence by accomplishing tasks
Sticking with an activity for 30-45 minutes and finishing a task
Creative problem solving and critical thinking
Practicing deductive reasoning and deductive logic
Practicing cause and effect and making more in-depth connections
Exercising applied mathematics with math puzzles and brainteasers
Thinking in logical steps and consequences of things
Sequential directions
Temporal directions
Quantitative directions
Spatial directions
Item No. ACBX79
UPC 860000642637
Customer Reviews
09/09/2022
GREAT WAY TO START THE DAY
We use a grade down to start our day and age appropriate for brain breaks. It's been a great way to start our day. She likes them so much, she asks me if she can do more at the end of the day.